Eden Home Health of Safford has earned the 2022 SHPBest "Superior Performer" Patient Satisfaction Award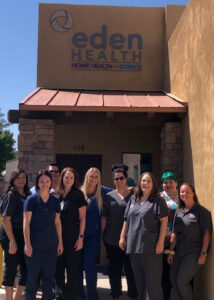 Safford, AZ, 08/30/2023 – Eden Home Health of Safford has been recognized by Strategic Healthcare Programs (SHP) as a "Superior Performer" for achieving an overall patient satisfaction score that ranked in the top 20% of all eligible SHP clients for the 2022 calendar year.
The annual SHPBest™ award program was created to acknowledge home health agencies that consistently provide high quality service to their patients. The 2022 award recipients were determined by reviewing and ranking the overall satisfaction score for more than 2,500 home health providers. With the largest HHCAHPS benchmark in the nation, SHP is in a unique position to identify and recognize organizations that have made patient satisfaction a priority and have been rewarded for their efforts with high marks on the HHCAHPS survey.
"SHP is proud to present the SHPBest awards to our top-performing customers. We commend these organizations for their continuous focus on delivering the highest quality of care to their patients", said Rob Paulsson, President of SHP.
"The HHCAHPS award defines a new standard of excellence that reflects the patient experience while receiving Home Health care," said Jamie Brown, COO. "It sounds easy, but it really is not.  Eden Home Health of Safford has done a tremendous job of putting patient care above all else and this award recognizes those efforts.  I could not be more proud of the Safford team!"
Read more about the SHPBest awards program, including methodology and award recipient lists at https://www.shpdata.com/home-health/shpbest-hhcahps.
About Eden Health
Eden Health is a 100% employee-owned company offering Home Health, Home Care, Palliative Care and Hospice in Washington, Oregon, California, Nevada, Idaho, Montana, Wyoming and Arizona. We pride ourselves in setting standards for excellence and strive to provide the highest quality care to our patients.  We are proud to be accredited by ACHC and to be a certified Great Place to Work 4 years in a row in addition to many other awards achieved. For more information, visit www.eden-health.com.
About Strategic Healthcare Programs (SHP)
Strategic Healthcare Programs (SHP) is a leader in data analytics and benchmarking that drive daily clinical and operational decisions. Our solutions bring real-time data to post-acute providers, hospitals, and ACOs to better coordinate quality care and improve patient outcomes. Since 1996, SHP has helped more than 7,000 organizations nationwide raise the bar for healthcare performance.