At Eden Health, we measure our success by the lives we touch and in the care that we provide for our patients. Awards we have received are humbling affirmations by our peers, the state and industry trade organizations for a job well done. We are proud to recognize our employee-owners who help us achieve our commitment to excellence.
CERTIFIED GREAT PLACE TO WORK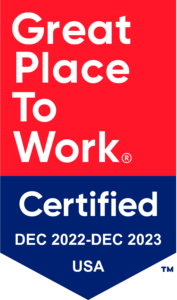 Great Place to Work Certification leverages 30 years of research to quantify the current state of your workplace culture and show you how it compares to the best in the world. The certification process gathers and evaluates employee feedback and recognizes companies who have built high-trust, high-performance company cultures.
We are proud to have all Eden Health locations receive this certification, 4 years in a row!!
CMS Quality Star Rating
The quality rating shows how a Home Health Agency compares to others on measurements of their performance, like how often the agency began their patient's care in a timely manner, or how often a patient got better at walking around. A rating of 3 to 3½ stars means the agency performed about the same as most agencies.
Congratulations to the following Home Health Agencies that have 4-star or better ranking:
4.5 Star:  Eden Home Health in Idaho Falls, ID
4.5 Star:  Eden Home Health in Reno/Carson City, NV
4.0 Star:  Eden Home Health in Sandpoint/Coeur d'Alene, ID
Home Care Provider of Choice
Agencies with the highest quality receive the Best of Home Care Award from Home Care Pulse®, the leading quality assurance firm for home care. This award is based on client satisfaction scores from several categories, including Compassion, Work Ethic, Communication, and Training. These award-winning agencies have proven that they provide the highest level of quality, professionalism, and expertise in home care.
Eden Home Care in Bellingham, WA
Home Care Employer of Choice
Recognition as an Employer of Choice means we set the highest standard for caregiver satisfaction. Our satisfaction scores rank in the top percentile nationally across all categories. These scores are based on monthly third-party phone interviews with the agency's clients and caregivers, conducted by Home Care Pulse. As a recipient of a Best of Home Care Employer of Choice award, you can have confidence that our caregivers will be happy to serve you.
Eden Home Care - Reno/Carson City, NV
We are proud to announce that Eden Health Home Health and Hospice Agencies are accredited by the Accreditation Commission for Health Care (ACHC). Achieving accreditation is a process where healthcare organizations demonstrate compliance with national standards. Accreditation by ACHC reflects an organization's dedication and commitment to meeting standards that facilitate a higher level of performance and patient care.
Accreditation is not a requirement for Home Health and Hospice Agencies, but we have chosen to go this route to demonstrate how important delivering quality care to the residents of the communities we are so honored to serve is to us as a company.