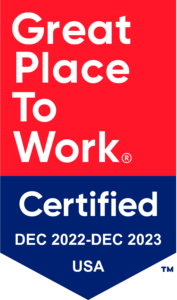 Certified Great Place to Work
Great Place to Work Certification leverages 30 years of research to quantify the current state of your workplace culture and show you how it compares to the best in the world. The certification process gathers and evaluates employee feedback and recognizes companies who have built high-trust, high-performance company cultures.
We are proud to have all Eden Health locations receive this certification, 4 years in a row!!
Accreditation
We are accredited by the Accreditation Commission for Health Care (ACHC). Accreditation by ACHC reflects Eden Health's dedication and commitment to meeting standards that facilitate a higher level of performance and patient care.
WHAT THEY SAY...
What are our patients are saying about us?
This service has allowed me to get the help I need. As a person who lives alone with no one to drive them to doctor appointments or to get blood draws and Physical Therapy, this service has been invaluable. Thank you!
All the staff was professional and had lots of helpful suggestions for me. They were also kind and caring and I believe had my best interest in mind when they helped me. Thank you for employing caring and kind people. Also, my friend had used your services a few months before me and she had an excellent experience too!
Andrea Davison
February 2022
In the Idaho Falls area, my Home Health nurse [name] went beyond her normal duties... she is very good at her job and very likeable. My Occupational Therapist was also very good at his job - plus doing things for me like taking me for a walk to get my mail, etc.
Joyce Farley
January 2022
[name] is the best Physical Therapist I have had! I've had several. He is the nicest, most considerate and makes me work hard and stretch beyond what I believe I am capable of in a kind, professional, gentleman way. [name] is my bath aid. I am so grateful for her! I can not walk or stand due to my M.S. She knows just the right techniques to transfer me and care for my needs. She is gentle with me, yet strong. She braids my hair beautifully.
I have been treated wonderfully by all. I would recommend to everyone. Thank you to [names] for the wonderful care!
Eden Home Health care center has wonderful caring people. They always treated us with respect and care. Love all of them!
[names] were wonderful. They gave me support and always showed me kindness. [RN] always gave me encouragement and helped my recovery much quicker and listened to me. I am so thankful to have these three in my time of need. They are a true blessing to all.
Carol Robinson
February 2022
[nurse name] was my nurse tending a wound that I couldn't reach. She also wrapped my legs, later teaching me how to do it myself. She was VERY patient (I have arthritis in my thumbs)! She went above the call to provide me with care. [PT name] has also been patient in my PT training and her encouragement with balance exercises etc., has been invaluable. Last - I appreciated the Agency's adherence to my request for COVID-19 vaccinated health providers in my home.
I would always go to Eden for Home Health. They are awesome in all fields, caring and so good at what they do! My PT was the best of the best and nursing was greater than words. They helped my worries of the shower. Without the kindness and care of all of them I would be gone 6' under. They were great to me and got me back to where life was. Thank you so much!
Maryann Siepert
June 2022
Over the last 20 years of taking care of my handicapped son; by far, Eden is the absolute best! As I have aged and need help now, Eden is a dream come true. Trial and error led my son's care to Eden, so I just started with the best! I refer anyone looking to Eden! Eden has the absolute best programs and best people working for them. Keep up the good work Eden!!
Eden Home Health – Spokane
1225 N Argonne Rd
Suite 100
Spokane Valley
WA
99212
United States